I am so absolutely thrilled to say that I have officially re-opened Bella Luna Rosa Photography Studios!
After a long hiatus of indoor, in person work I am back with some safety and covid precautions of course.
Bella Luna Rosa Studios is located in the historic Beaver Mill.
This fully functional photo and video studio gives us privacy in a safe environment to experiment and experience the chance to work one on one with Bella Vendetta.
The studio features large, gorgeous windows letting in natural light, blank walls with buildable sets to suit your needs. A full collection of props, backdrops, furniture and costume to help make your idea come alive. Full bathroom with shower, and kitchenette available.
Many packages available to suit all kinds of folks. I love taking photos of people and helping make them feel beautiful. I have alot of experience working with newbies and inexperienced models. I am great at helping coach your poses while checking in to make sure we are doing what you want during your shoot. YOU are the director and the entire experience is designed to make you feel great.
Get in touch today and let me know your ideas! Fill out the photoshoot form here: https://forms.gle/vrq9qvLvLEEiKczy6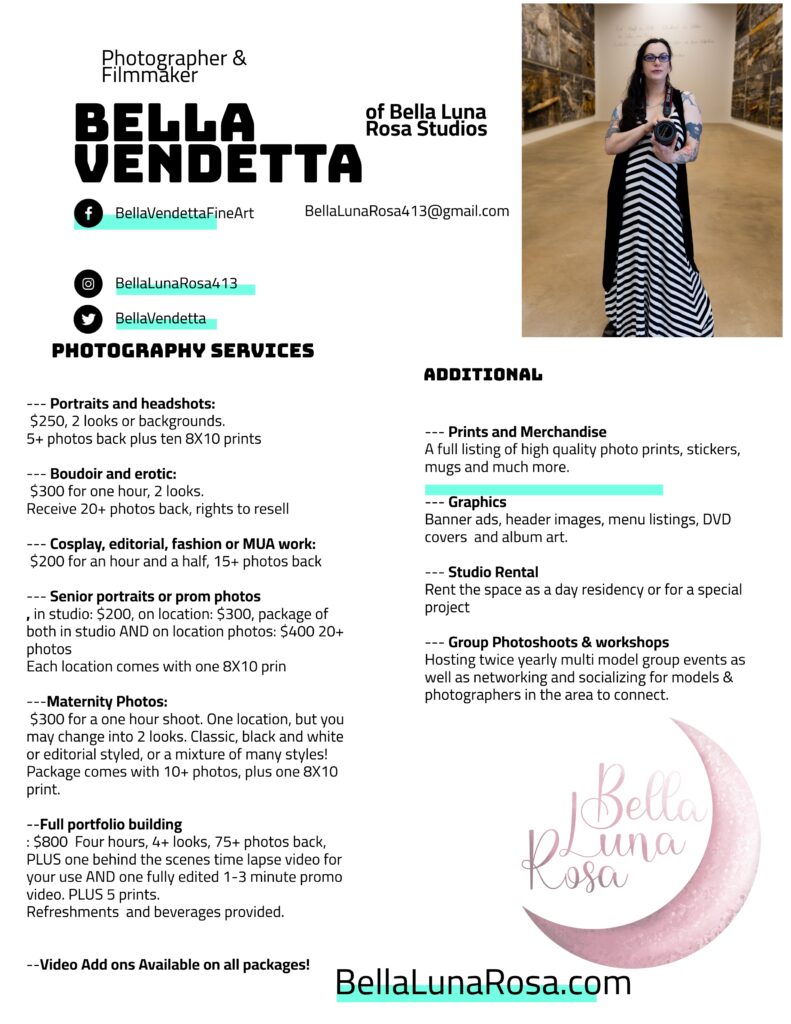 Terms and Conditions:
A deposit of at least $50, or 50% of your price total will be required to hold your scheduled date and time. The remainder of the total will be due the date of your photoshoot.
Payments can be made via cashap, venmo, or cash.
A standard photo release must be signed.
In the case of illness or misfortune you may reschedule your photo shoot up to 72 hours before scheduled d ate. Cancellations with less than 72 hour notice will forfeit deposit.
Bella Luna Rosa Studios is a 3 floor walkup. Secure parking across the street. If you are unable to make it up the stairs we will make alternative arrangements for your photoshoot.
Finished images are delivered within 2 weeks digitally in the form of a zipfile. Prints may take up to 30 days to arrive.
refer a friend and enjoy $50 off your regularly priced photoshoot!
Mini shoot specials and deals available through out the year.
Extremely limited TFP available.
Got your own website, onlyfans or other platform? Let's discuss a trade!
Bella Luna Rosa Studios is located in North Adams, Massachusetts. Studio rental is also available to me in West Springfield, Massachusetts and photo shoots can be arranged there with advance notice.
See this post for more:
JOIN NOW to see it all!